---
We produce archival digital fine art prints (Giclee, pronounced Jeeclay) on the Epson SC P7500 using 12 lightfast pigment inks. Maximum paper width is 60cm by as long as you like, so can print up to A1 in paper sizes.
Our minimum size is A3 but will cut in half for no charge, so if you put your A4 prints '2 up' on an A3 sheet, you will get A4s for half the cost of an A3, just need an even number.
Files can be sent in any Photoshop friendly format, JPEG, PSD, PDF, TIFF etc. Please make sure you send the files the actual size you want them printed including any white border at 200-300dpi. There is a video at the bottom of this page if you are unsure how to add borders in Photoshop.
We then send an invoice which has various ways to pay on it.
Prints can be collected or posted. Posted prints are normally sent rolled in 12cm diameter heavyweight tubes, up to and including A2 is £8 50 first class recorded and £10 50 Special Delivery. Anything over A2 we send Special Delivery for £13. This is a very reliable service and guarantees delivery by 1pm the next day. First Class recorded is ordinary post and can arrive next day but may take longer, in busy periods can be a lot longer.
Discounts are possible for orders of over £200 and depend on ink coverage, size of white borders number of different files etc.
We can do an A4 sample print for no charge, and can send offcuts of the different papers we use.
Prints are normally ready for collection or posted the day after you order them.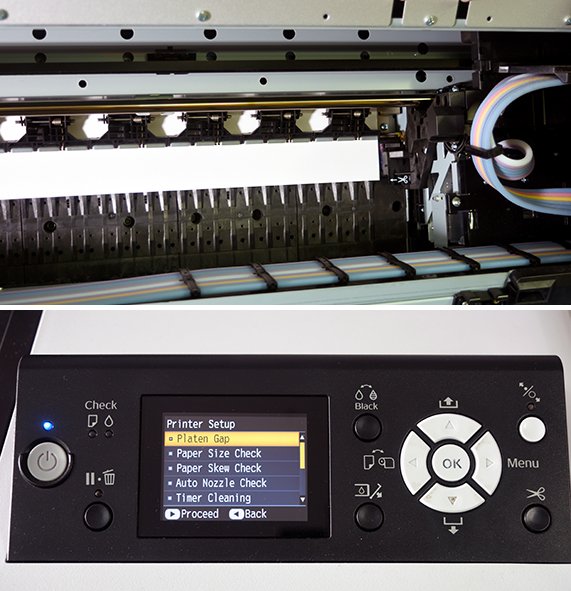 Prices:
Hahnemuehle Photo Rag 308gsm (matt smooth)
A3 £ 11
A2 £ 22
B2 £ 38
A1 £ 44

Hahnemuehle German Etching 310gsm (matt textured)
A3 £ 10
A2 £ 20
B2 £ 34
A1 £ 40

Fotospeed Platinum Baryta 300gsm (semi gloss)
A3 £ 10
A2 £ 20
B2 £ 34
A1 £ 40

Fotospeed Smooth Cotton 300gsm (matt smooth)
A3 £ 7.90
A2 £ 15.80
B2 £ 26.25
A1 £ 31.60

Fotospeed Platinum Etching 285gsm (matt textured)
A3 £ 7.90
A2 £ 15.80
B2 £ 26.25
A1 £ 31.60

Fotospeed Matt Ultra 240gsm (matt smooth)
A3 £ 5.50
A2 £ 11
B2 £ 19
A1 £ 22

No VAT is chargeable on these prices, A4 prints can be put 'two up' on a file and will be cut in half for no extra charge. Unusual sizes are no problem up to 60cm wide by metres long just email your specifications for a quote.
A3 prints can be sent flat for no extra cost, larger sizes will incur an extra cost please get in touch for a quote
Turnaround is normally 24 hours but can be longer, let us know if you have a tight deadline.
Prints can be collected from Atom Gallery 11-5 Wednesday-Thursday 11-6 Friday-Saturday , Monday and Tuesday there is usually someone here from 11 til about 5 but email or phone to check first. Please sign up to the mailing list to keep updated with new papers, price changes, occasional closures etc.
How to resize and add borders